Graduate School Orientation and COGS Fall Welcome is Saturday August 28, 2021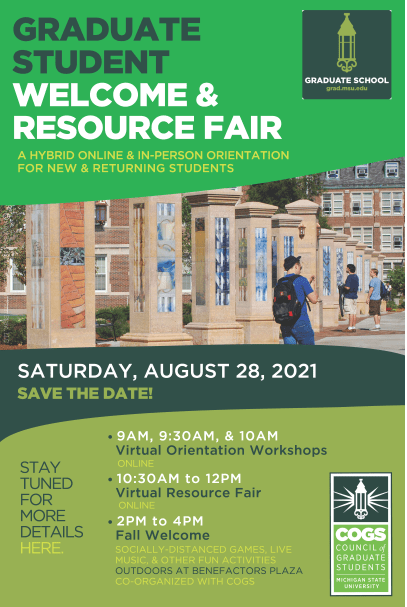 Online:  9:00am to 12:00pm
All NEW and RETURNING Graduate Students are invited to attend the Graduate School's Virtual Welcoming and Resource Fair. COGS will be there!  This year, the Graduate School Welcoming and Resource Fair will completely virtual, hosted on the grad.msu.edu website. A few days prior to the date of the virtual event,  the event page will be made public so that graduate students can become familiar with the content and groups represented, and choose what they want to tune in to on Saturday, August 28th. Times for the various sessions can be found on: https://grad.msu.edu/events/graduate-school-welcome-and-resource-fair-0 
ON Campus! 2pm to 4pm @ Benefactors Plaza (behind Chittenden Hall)
Close your computer, grab a friend, bring your family and come out to campus for a real, live and in-person, celebration of new beginnings! Join COGS, Graduate Student Life and Wellness, The Graduate School and other campus partners for an  in-person, outdoor afternoon of fun, games, music and more! Check out The Sci Files for a live Podcast. They'll  be doing 5-minute interviews with MSU student researchers throughout the event. Sign up now to be interviewed at http://bit.ly/scifilescogs
Other activity centers include:  MSU Broad Art Museum, Library – Makers Space, FRIB/NSCL, Abrams Planetarium, MSU Bug House, Gender & Sexuality Campus Center (CSCC), Women*s Student Services, Student-Parent Resource Center, Rec Sports & Fitness, Therapy Pets and more!  Sparty will make an appearance too for fun and photo-ops!
Plenty of free and close parking in ramp 6.  For all new and returning MSU Graduate & Professional students!
Get all the details on our FALL WELCOME page.