Graduate School Welcoming and Resource Fair
All NEW and RETURNING Graduate Students are invited to attend the Graduate School's Virtual Welcoming and Resource Fair. Saturday, August 29 from 8:30 AM – Noon. COGS will be there! Additional information coming soon and will be posted on https://grad.msu.edu/events/graduate-school-welcoming-and-resource-fair-0
Fall Welcome Cookout
**Unfortunately due to the Coronavirus pandemic, we will not be able to hold our usual cookout event. We will be taking part in the virtual resource fair with the Graduate School however. We hope to connect with you virtually until we can celebrate again in person. Please check our events tab for programming updates and follow us on social media too!
**Looking for University-wide Fall Welcome events? Check the FALL WELCOME Website (check often for updates throughout the summer).
THANKS TO ALL WHO CAME OUT FOR FALL WELCOME COOKOUT 2019! WE HAD A GREAT TIME!
Feel free to tag us in your photos on Facebook @msucogs  or on Instagram &  Twitter @cogsmsu.
Memorable Moments from our 2019 Fall Welcome Cookout: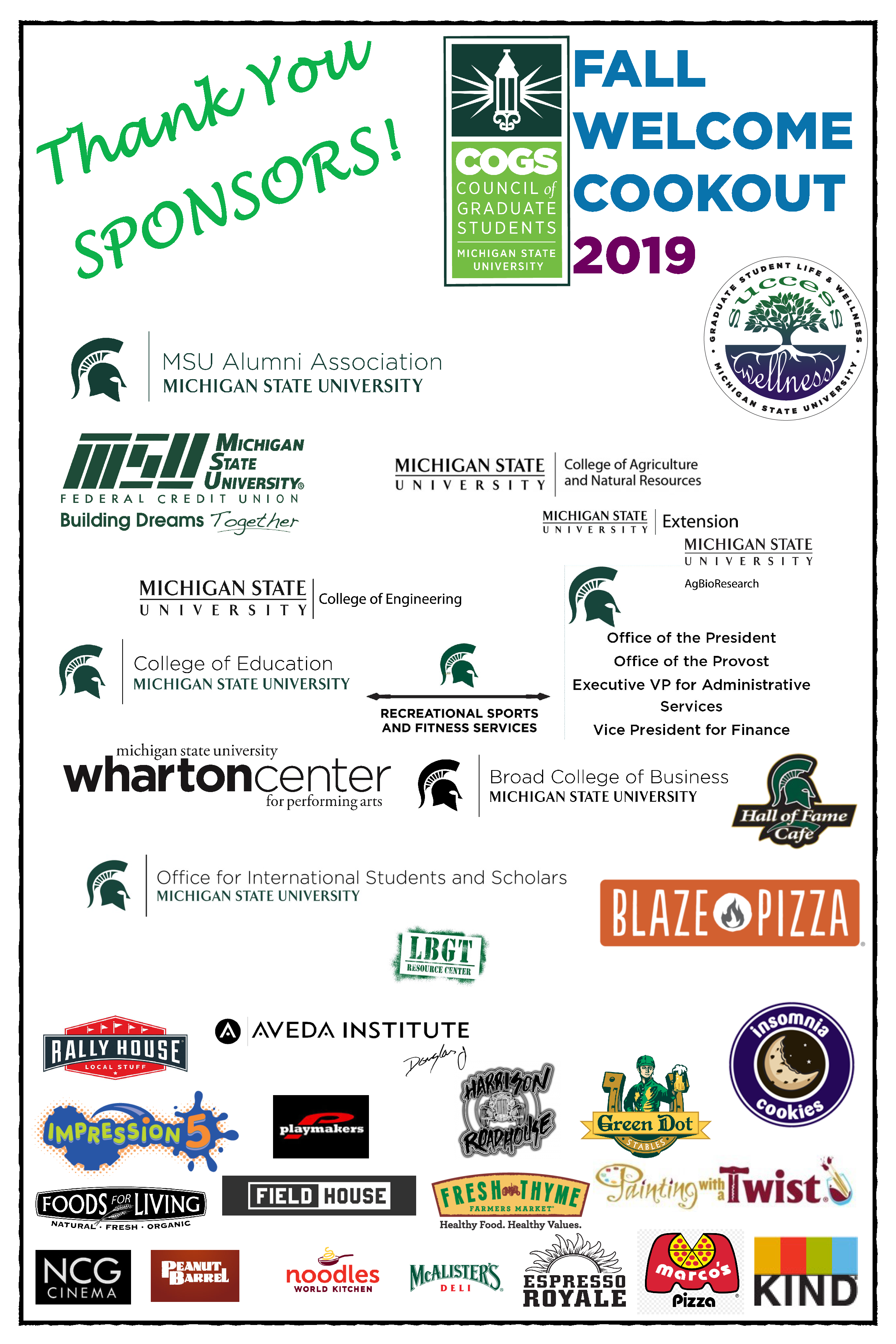 A HUGE Thank YOU to our 2019 sponsors! We couldn't do it without you!
PLATINUM: MSU Alumni Association, Graduate Student Life and Wellness, Blaze Pizza, Insomnia Cookies
GOLD: Vice President Office for Administration. MSU-FCU, MSU Recreational Sports & Fitness, College of Agriculture, College of Education, College of Engineering, Kind Company, Spartan Hall of Fame Café
SILVER: Wharton Center, Broad College of Business
BRONZE: LBGT Resource Center, College of Arts & Letters, MSU-OISS, Aveda Institute, Espresso Royale, Fieldhouse, Foods for Living, Fresh Thyme, Green Dot Stables, Harrison Roadhouse, Impression 5 Science Center, Marco's Pizza, McAllister's Deli, NCG Cinema, Noodles & Company, Painting with a Twist, Peanut Barrel, Playmakers, Rally House
Memorable Moments from our 2018 Fall Welcome Cookout: