Graduate School Resource Fair: MSU Union, 10am-12pm
All NEW and RETURNING Graduate & Professional Students are invited to attend the Graduate School's Resource Fair. COGS will be there!  More information will be coming soon! Check here for updates: Graduate School Resource Fair at the MSU Union | The Graduate School
COGS Fall Welcome Celebration: MSU Benefactors Plaza, 12-3pm
Come celebrate new beginnings!  After the Resource Fair, make your way over to Benefactors Plaza (behind Chittenden Hall) and enjoy great food, friends, fun activities and tabling from campus partners, fun surprises, giveaways and more!
We had a great time celebrating in 2021! See you in August of 2022! 
*More details to come on this page later in summer 2022. Stay tuned! Meanwhile, for a preview of what our celebration will be like,  see below for information on the fun we had in 2021 and other previous fall welcome events. Looking forward to a great time this coming fall!
2021 FALL WELCOME CELEBRATION with COGS!
We had a GREAT turnout in 2021! Thank you all for coming and connecting with COGS and your graduate & professional student peers! Check out our 2021 photo album!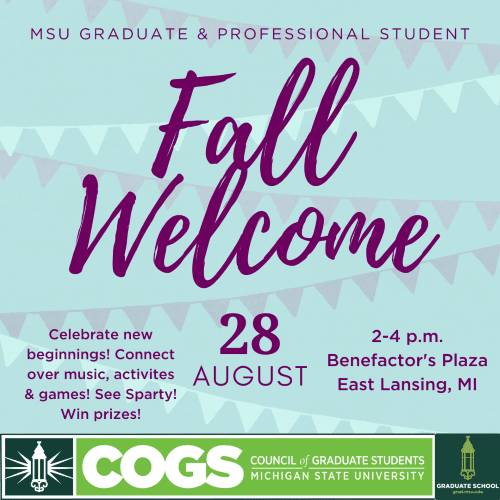 Close your computer, grab a friend, bring your family and come out to campus for a real, live and in-person, celebration of new beginnings! Join COGS, Graduate Student Life and Wellness, The Graduate School and other campus partners for an  in-person, outdoor afternoon of fun, games, music and more!  Plenty of free and close parking in ramp 6.  (MORE PARKING INFO HERE: https://maps.msu.edu/interactive/ and here: Parking Office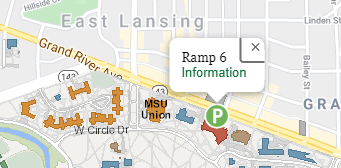 Note:  Masks are not required at this outdoor event, though encouraged. We are following all University, Local and State guidelines. Please note that additional guidance may be added as per any developing University guidelines. See MSU Together We Will for more information on how the campus is navigating during the pandemic.
OPPORTUNITIES TO MAKE NEW FRIENDS
This year, we are focusing on activities to encourage connections – with graduate and professional student peers, and the campus community.  The Graduate School is leading the way with coordinating special Community Groups for students as well as fun networking games and activities! Stop by the Graduate School tent to learn more about the Community Group Initiative and sign up to be part of it!
We'll have:
VIP guest speakers

Music and dancing courtesy of Impact Radio
LIVE PODCAST – The Sci Files

Full array of fun lawn games & fun for the whole family

SIGN UP for Graduate/Professional Student Community Groups with Grad Life & Wellness!

Caricature Artists

SPARTY 

Zumba activity courtesy of Rec Sports & Fitness

Special snacks  – and treats, thank you to Insomnia Cookies!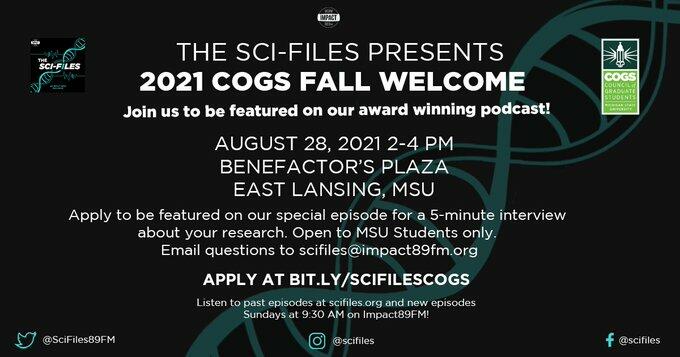 Special Activity Centers Featuring:
MSU Planetarium

Capital Area Therapy Pets

Sign up with GSLW at their tent area to participate in Community Groups!

BONUS!! The Graduate School has prepared a fun scavenger hunt for welcome week and beyond! Prizes WILL be awarded! Learn about it on Aug. 28th or check it out here: SCAVENGER HUNT
BONUS: WIN PRIZES!! Get a COGS Buck during the event? Redeem at the registration area for a prize! Through the generosity of our wonderful East Lansing businesses and campus partners, we have lots of great prizes and giveaways!  
 All graduate and professional students, friends and families are welcome to join us! It's a great time to engage with your fellow graduate students and learn about your campus community!
REGISTRATION: This event is FREE for MSU Graduate & Professional Students and their guests/families! Please be prepared to fill out quick registration form (Name, email & # guests)  to receive wristband for entry to event space. There will be QR-Coded signs that will link to the form. Please show submission page from device to receive wristband. All attending MSU Graduate & Professional Students must register.   COGS staff will be able help register those who are not able to use their device for this.  Must have registered and receive wristband to be eligible for prizes!
THANK YOU TO OUR GENEROUS  SUPPORTERS!
Sponsor donations directly impact our graduate and professional students, because supporting student connections = student success! We could not do this without our generous sponsors! If your department is listed here, please spread the love! For our wonderful community donors, please visit their businesses and check them out online! We are lucky to have a community supporting Spartan students!
2021 COGS Fall Welcome Sponsors:
The Graduate School
Graduate Student Life and Wellness
MSU Alumni Relations
MSU Athletics
MSU Office of Research and Innovation
MSU Federal Credit Union
MSU Student Affairs & Services
College of Agriculture & Natural Resources
College of Education
College of Human Medicine (Dean's Office)
College of Osteopathic Medicine
College of Law
College of Natural Science
College of Social Science
College of Veterinary Medicine
Office of Inclusion & Intercultural Initiatives
MSU/East Lansing Community Sponsors (Prizes)
THANK YOU to our (growing!) list of MSU campus partners and East Lansing businesses  for their PRIZE donations – so our students so they can check out all that our Spartan community has to offer.
University-wide Fall Welcome Events
Check out the Student Life webpage for the full Fall Welcome schedule. There are tons of fun activities planned for ALL students to participate! It's a great time to get to know your whole campus community.  Check it out here: https://studentlife.msu.edu/fall-welcome/events-fall-welcome/index.html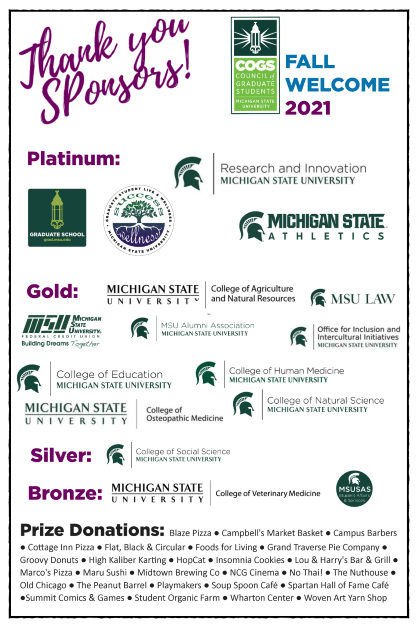 THANKS TO ALL WHO CAME OUT FOR FALL WELCOME COOKOUT 2019! WE HAD A GREAT TIME!
Feel free to tag us in your photos on Facebook @msucogs  or on Instagram &  Twitter @cogsmsu.
Memorable Moments from our 2019 Fall Welcome Cookout: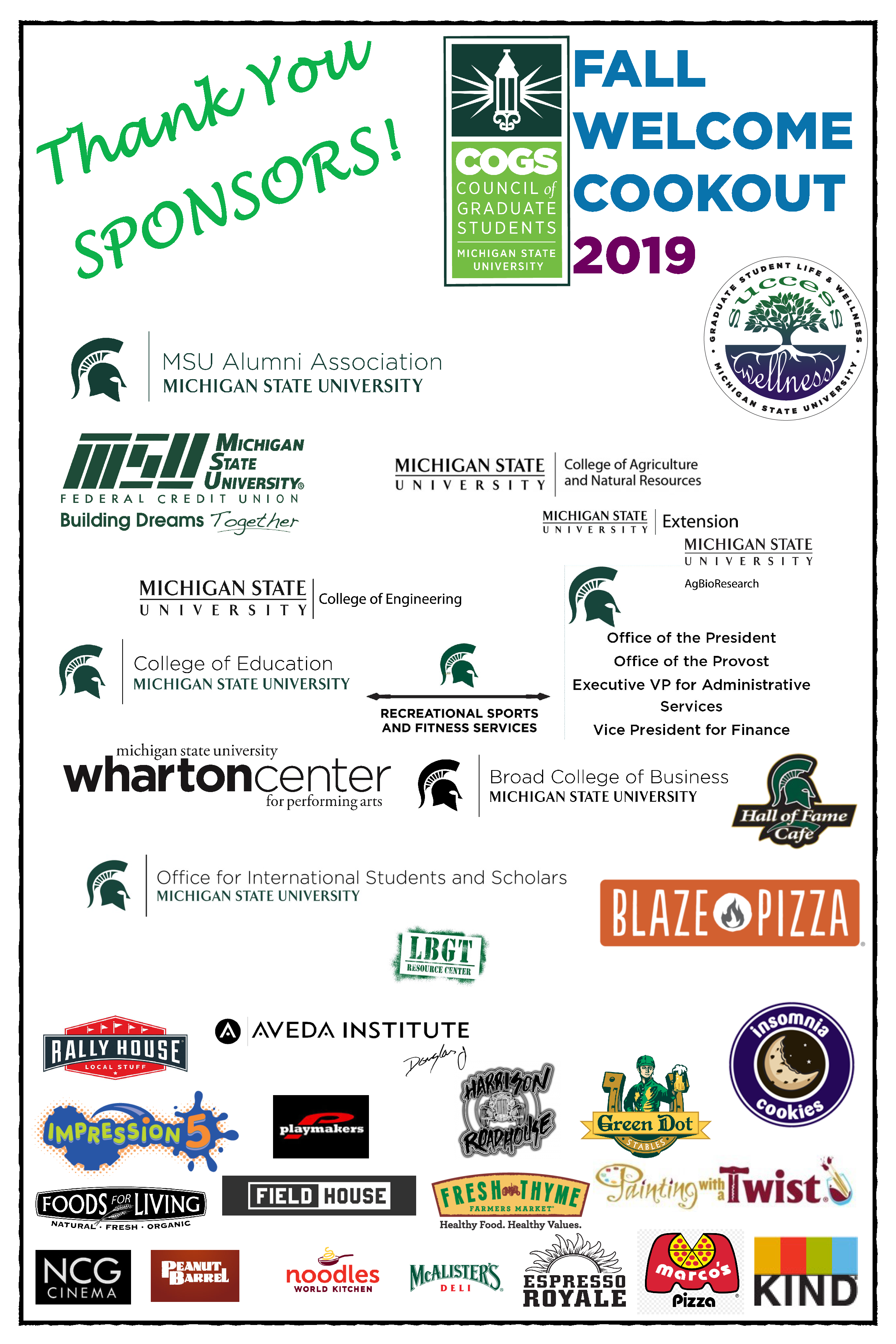 A HUGE Thank YOU to our 2019 sponsors! We couldn't do it without you!
PLATINUM: MSU Alumni Association, Graduate Student Life and Wellness, Blaze Pizza, Insomnia Cookies
GOLD: Vice President Office for Administration. MSU-FCU, MSU Recreational Sports & Fitness, College of Agriculture, College of Education, College of Engineering, Kind Company, Spartan Hall of Fame Café
SILVER: Wharton Center, Broad College of Business
BRONZE: LBGT Resource Center, College of Arts & Letters, MSU-OISS, Aveda Institute, Espresso Royale, Fieldhouse, Foods for Living, Fresh Thyme, Green Dot Stables, Harrison Roadhouse, Impression 5 Science Center, Marco's Pizza, McAllister's Deli, NCG Cinema, Noodles & Company, Painting with a Twist, Peanut Barrel, Playmakers, Rally House
Memorable Moments from our 2018 Fall Welcome Cookout: