GEU, COGS Hosts Rally Against the Grad Tax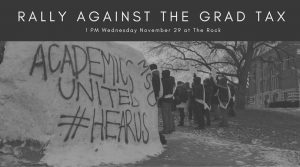 A message from the GEU:
The current tax plan passed by the House of Representatives includes a $1.5 trillion corporate tax cut and a giant tax hike on graduate students. Here at MSU, the average graduate employee makes less than $20,000 in gross pay each year. Under this new plan, 99% of graduate teaching assistants would be paying approximately 10% of their annual gross income toward federal taxes. Over 25% of that same group would be paying 20% of their income toward taxes. This is clearly not a sustainable solution to the financial challenges facing our nation. Grad students already sacrifice enough.
Click here to see how you can help.