We make sure you always know when elections are happening, and have the information you need to vote with confidence. Sign up to receive election reminders, get registered to vote, & apply for your absentee ballot!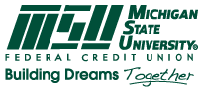 We offer financial services to MSU and OU faculty, staff, students, alumni association members, and their families as well as a variety of select employee groups.

Here you may explore parking options with the  City of East Lansing.   East Lansing Parking Office Phone: (517) 337-1277.

Visit the City of East Lansing home page for more information about the community, government and police.