Ashley Fuente
President
Ashley Fuente is currently serving as the President of COGS. She was a Spanish teacher prior to beginning her PhD in Curriculum, Instruction, and Teacher Education. Her research interests include multilingualism, bilingual education, and teacher identity and positionality in diverse learning and teaching contexts.
Council of Graduate Students
Liz Luna-Gagnon
Vice President of Internal Affairs
Liz Luna-Gagnon is currently pursuing a Master of Fine Arts in the area of ceramics. Her research focuses on identity and multiculturalism. Born in Peru she moved to the United States with her family at the age of five. Liz has a B.A. and an M.A.T. from Andrews University, and is a certified K-12 visual art, and 6-12 language arts teacher. She was a Baltimore City Public School teacher from 2008-2013, and an adjunct instructor at Saginaw Chippewa Tribal college from 2013-2015, and she is very passionate about education and teaching.
Council of Graduate Students
Susanna Maingi
Vice President of External Affairs
Susan-Rose Maingi is currently serving as the Interim Vice President of External Affairs. She is a Kenyan, MasterCard Foundation Program Scholar pursuing a Master's Degree is Fisheries and Wildlife. Her research interests include sustainable solutions to human-carnivore conflict in Africa, assessing leadership diversity in wildlife management and conservation outreach. She is a part of the Graduate School's Leadership Academy (2017 cohort) and is an active member of MSU's RECaP Laboratory, the African Graduates Students Association (AGSA) and the African Student Leaders Association (ASLA).
Council of Graduate Students
Kamran Ali
Treasurer
Kamran Ali is a third year Ph.D. student at Department of Computer Science and Engineering. His research interests areas are Wireless Communications & Networks, Mobile Computing, Signal Processing, Cyber Physical Systems, Device-Free Human Computer Interaction (HCI) and Device-Free Health Monitoring. He has served on the E-board of Pakistani Students Association (PSA) of MSU from 2014-2016, and has also served as a representative of Council of Graduate Students (COGS) in International Students Association (ISA) for the year 2016-2017.
Council of Graduate Students
Clarice Esch
Recording Secretary
Clarice Esch is currently serving as the Recording Secretary of COGS. She is a third year PhD student in Forestry and Ecology, Evolutionary Biology, and Behavior. Her research focuses on the legacies of soil biota mediated feedbacks between forest trees and seedlings. She completed her undergraduate studies in Horticulture at Western Kentucky University.
Council of Graduate Students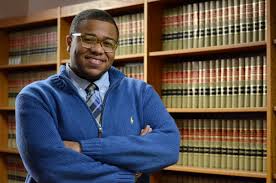 Manire Vaughn
Parliamentarian
Manire T. Vaughn is a rising 3L at Michigan State University College of Law. He is a native of Chicago, IL and attended Saint Mary's University where he earned a Bachelor of Arts Degree in Criminal Justice and Human Services. Prior to law school, Manire led cultural immersion trips throughout the United States and Central America. Manire has three plus years of diversified experience in policy analysis, diversity and inclusion matters, and community engagement. Manire has a passion for social justice and racial equity in higher education and aspires to one day serve as the president of a Historically Black College or University.
Council of Graduate Students
Alounso Gilzene
Director of Event Planning
Alounso Gilzene is a Second Year Ph.D. student in the Department of K-12 Educational Administration. His research focuses on school principal motivation around finance and resourcing decisions in urban contexts. He is originally from Miami, Florida and he attended the University of Miami for his Bachelor's degree, served as a volunteer in the Miami Dade County Public School District for one year through AmeriCorps and then attended the University for Pennsylvania for his Master's degree in Education Policy. Prior to attending MSU, Alounso worked as a Data Analyst/Performance Management Coordinator in a small charter school network in Philadelphia. Alounso currently serves on the E-board of the Black Graduate Student Association (BGSA) and has also served as a representative on the Council of Graduate Students (COGS).
Council of Graduate Students
Benjamin Burke
Law Liaison
Ben Burke is a rising 2L at Michigan State College of Law. Prior to law school, Ben served as a Peace Corps Volunteer in the Philippines working with children in need of special protection. Additionally, Ben has experience working with international nonprofit organizations in business development.
Council of Graduate Students
Isaac Krause
Medical School Liaison
Isaac Krause is a first year student in the College of Veterinary Medicine. Following his undergraduate program here at MSU he was admitted to the veterinary college and is currently the vice president of the Council of Medical Students. He hopes to return to his home town of Armada, Michigan to work at his family's mixed animal practice alongside his father and brother.
Council of Graduate Students
Dee Jordan
Immediate Past President
Dee Jordan is the former President of COGS and is currently serving as Immediate Past President. Dee is a University Enrichment Fellow and Doctoral Student in the Department of Geography, where her concentration is Spatial Epidemiology and Health/Medical Geography with an Environmental Health and Policy focus.
Council of Graduate Students
Dr. Laura McCabe
Advisor
Dr. McCabe, Professor in the Department of Physiology and Director of the MSU Beckman Scholar Program, received her B.A. and Ph.D. from University of Chicago. After graduate training in intestinal physiology, her post-doctoral research at UMass Medical Center. Currently, her laboratory is working to identify novel osteoporosis therapeutics that target the gut. McCabe has been training undergraduate, graduate and post-doctoral students for more than 25 years.
Council of Graduate Students
Deanne Arking
Office Manager
Council of Graduate Students
Ariel Fueri
Major: Political Science and Pre-Law
Council of Graduate Students
Lauren Peetz
Major: Marketing
Council of Graduate Students
Joshua Pichardo
Major: International Relations
Council of Graduate Students
Tiffany Johnson
Major: Advertising
Council of Graduate Students
Haley Reid
Major: Social Relations and Policy
Council of Graduate Students